A Task is a piece of work on a Project File that needs to be done by the assigned Collaborator.
A Task is automatically created when a Project Owner assigns a Collaborator to a Step. The Task to be done by a Collaborator is determined by the Task role. Learn more about each Task role here: Task Roles.
If you are a registered user, you can access your assigned Tasks from the Home page. The My Tasks table contains available and upcoming Tasks from Live Project in your Organization.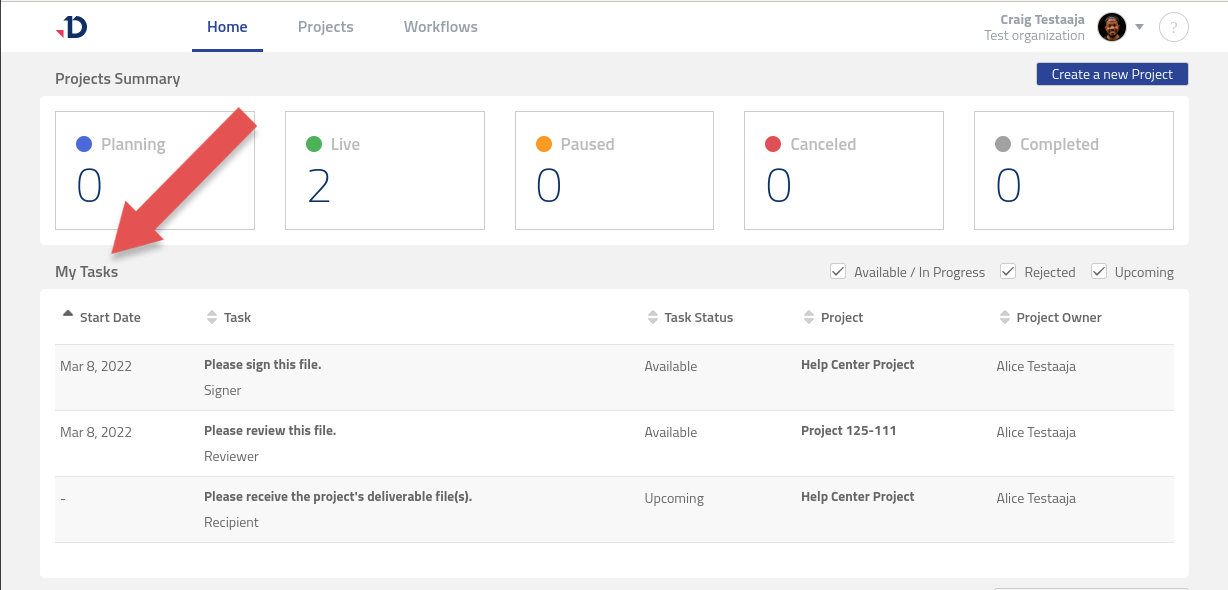 Task Statuses
A Task Status indicates what the situation is with a Task in a Project. The available statuses are:
| Task Status | Description |
| --- | --- |
| Upcoming | The task has been created but is not yet active. |
| Available | The task is ready to go. The assigned Collaborator has not yet opened it. |
| In Progress | The assigned Collaborator has opened a task at least once. |
| Paused | The Project has been paused. |
| Rejected | The Collaborator has rejected a document, and task is pending action by Project Owner to resolve rejection. |
| Completed | The work on a task is done. |
| Canceled | The Project has been canceled. |
Task History
The Task History contains records of the date and time of when the Task status has been changed.