Each Project in Leap has a status. The status indicates the current progress level of the Project. Projects under preparation have the Planning status. Live status indicates that a Project is launched and that Collaborators can work on their respective tasks.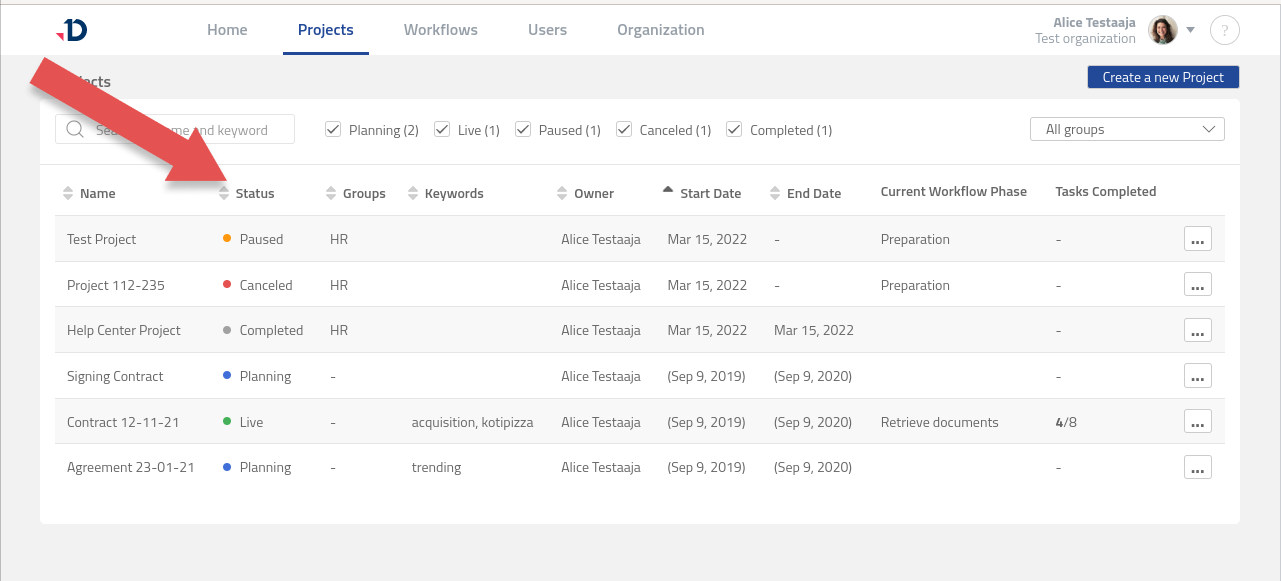 It is also good to know that a project may go through different statuses:

The ideal path for a project to progress would be Planning → Live → Completed. However, when needed, a project can also be Paused or Canceled.
See the description of all possible Project Statuses in the table below.
Status

Description

Planning

The project is initiated and Project Owners have begun planning the Workflow, assigning Collaborators, and adding Files. At this stage, the Project Owners can make any changes to the Project. Users involved in a Project as Collaborators cannot see a Project during Planning.

Live

Organization users who are assigned as Collaborators can access the Project from the Project list and can begin work on their available tasks.

Project Owners can make some changes to the Project:

add new Collaborators

add new Phases to the Workflow, but only as an upcoming Phase

add new Steps within active and upcoming Phases

Paused

Work on the Project has been suspended. Available tasks are also Paused and cannot be completed. Project Owners can still make changes to a Project.

Completed

A project is marked as Completed when all tasks are taken care of.

Canceled

The project is no longer Live and cannot be started again. Collaborators still have access to the Project's information. Project Admins can copy a Canceled Project.