Why am I not receiving Leap email notifications?
If you haven't received an email notification, there are a few steps you can take to resolve the issue:
Check your spam or junk mail folder to ensure that the email did not end up there.

Verify that notification@documill.com is whitelisted by your email client.

Double-check that your user profile's notification settings are not disabled.
If you have tried all the options above and still don't receive notifications, please contact support@documill.com.
Why aren't my Collaborators receiving Leap email notifications?
As the Project Owner, you can check the Notification log page to verify the status of the email notification. If an email notification was not sent, you can check the reason for the failure by clicking [Open Error] button.
If the notification status is 'Delivered', your Collaborator may not be receiving an email notification for the following reasons:
The email provider has marked the email as spam or junk. Please ask your collaborators to check their spam/junk folders and add notification@documill.com to the safe sender list.

The Collaborator's task is not yet available. When a task is ready to begin work on, Leap automatically sends a notification to a Collaborator. Please ensure that the task's status is 'Available' or 'In progress'.

The email address of the Collaborator is misspelled. Make sure the Collaborator's email address is spelled correctly.

The email was blocked by Collaborator's email server or firewall. Please request that your Collaborator's IT department allows emails from the @documill.com domain.
Can I resend an email notification to a Collaborator?
Yes, Leap offers several ways to resend an email notification to your Collaborator:
From the Project Tasks page.
Please follow these steps
1. Go to Tasks page.
2. Click [Resend Notification] button.

Sending a link to a task directly to a Collaborator via email.
1. Go to Project Notifications Log page.
2. Click [Show content] to preview the email notification.

3. Copy the link to open the Task.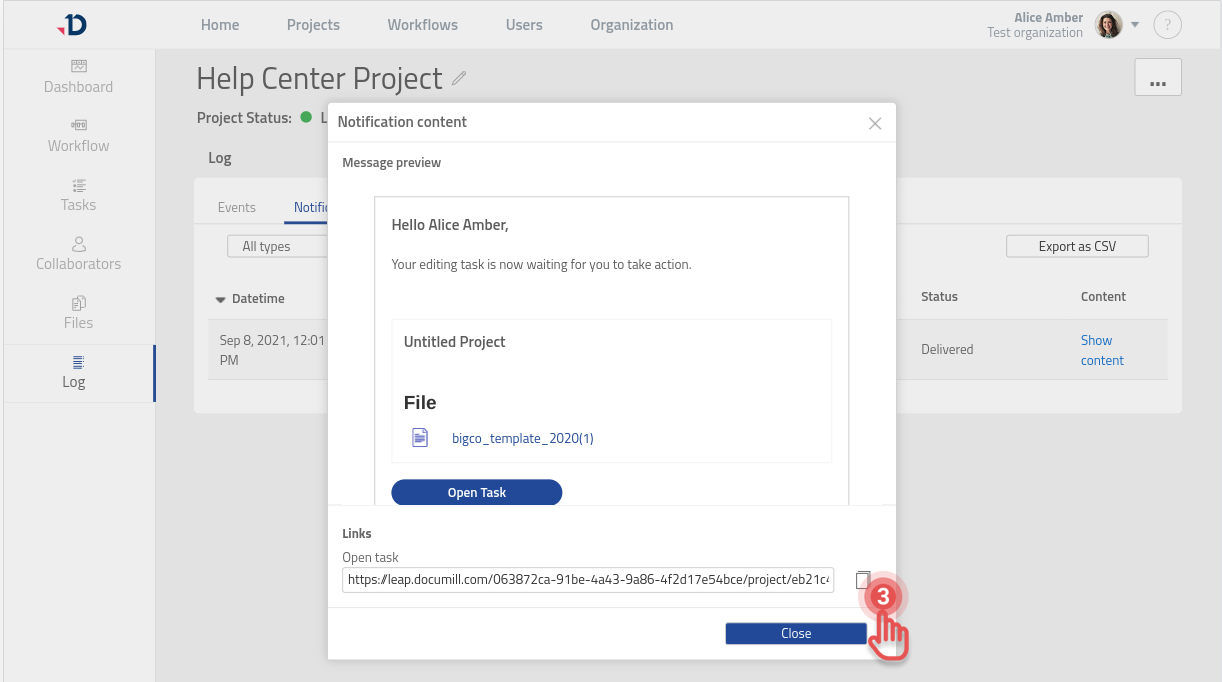 4. Email the copied link to the Collaborator.